Sparkling Holidays - Independent Travel Agents since 1997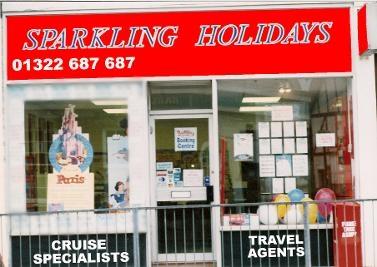 Our previous shop prior to moving to our current offices.
About Us
Your comfort is our goal. We have selected destinations and resorts that you can visit and enjoy as your home away from home when you're on holiday or business. We offer complete range of services for any traveller, whether you're on business or your journey is for pleasure. When you plan your next trip or holiday consider us as your travel partner.
Our Services
We are conveniently open 7 days a week, and offer every travel service you may need from rooms in every grade of hotel to ensure we can provide for every budget, flights from Low Cost Carriers and Charter flights to Private Jets and first class seats, Cruises, Package Holidays, Airport Parking, Coach Travel and Holidays, Rail Travel and holidays.In fact all the services, products and all the amenities you could possibly ever need. We have made it easy and safe to reserve and pay either online on by phone - contact us now!
Our Staff
Our friendly and helpful staff will make sure you have a comfortable and enjoyable trip. This is our passion, and it's our mission to help you enjoy your holidays and travel too!
Customer Reviews
"Peter ensured our short break to Wales went without complications and all our concerns about Disabled access for my friend was sorted without the usual headaches - it was so perfect we extended by another 3 days " -- Lee, Dartford

"The staff are so helpful, I know that they will find the perfect holiday for me, they also told me what I needed to do to make my last Cruise go so smoothly . I will book with them again." -- Josephine, Bexleyheath